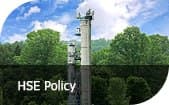 In developing and operating such a technically complex field like Karachaganak, safety and environmental protection are critical success factors.
Safety remains at the core of everything we do and Karachaganak challenges us every day on this front. At an operational level, we experience extreme temperature swings, which pose significant personnel and asset integrity issues. The high H2S product, combined with high-pressure injection, also poses its own set of operational safety challenges.
While safety is a key focus area, we aim to develop and market hydrocarbons from Karachaganak in an environmentally sound manner. Enhancing hydrocarbon production, efficient use of water resources, the reduction of emissions and hazardous waste and eliminating spills and leaks are all important elements of Karachaganak's environmental management programme.