The success in achieving the Company's business objectives depends primarily on the professionalism and dedication of its people. Our employees are essential for the development and operations of the Karachaganak Field.
In accordance with the FPSA, KPO has an obligation to ensure the development and training of local staff. The Company pursues various means for personnel development for sharing Parent Companies' expertise to organizing of mandatory professional training with involvement of educational institutions, both local and international.
As of end 2021, the total number of employees in KPO, including those working on temporary projects, made up 4,076 people with 3,878 of them being Qazaq nationals and 198 expatriates.
KPO employees, 2019-2021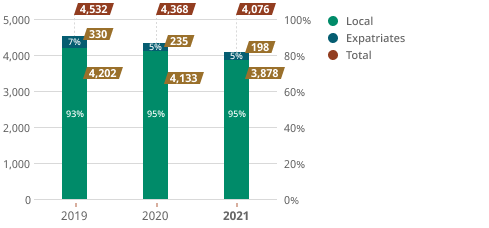 KPO employees by region, 2021