/
/
/
Sanitary protection zone
Sanitary protection zone
Effective from 1st January 2018, a new estimated Sanitary Protection Zone (SPZ) was established within the Karachaganak Field.
During 2018-2021, KPO successfully completed the relocation of eleven of the existing eighteen air environmental monitoring stations. The relocation of these stations was scheduled due to the change of SPZ to ensure the correct performance of the continuous air monitoring and comply with the RK legal requirements.
Map of the Karachaganak Field with SPZ marked as of end 2021
(click on image to enlarge)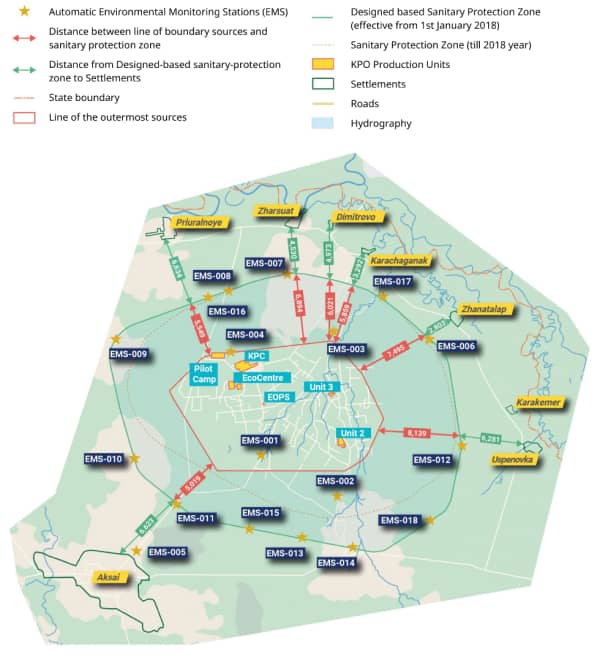 Development and upgrading of the ESPZ in the KGDBN
As part of the project «Development and upgrading of the Estimated Sanitary Protection Zone in the Karachaganak Field», KPO contemplates activities for planting new and caring for existing tree-planting. In addition, KPO provides for the installation of information signs at the SPZ boundary to inform the local communities and personnel.
In order to protect the historical and cultural heritage sites from potential negative impact, the project also provides for the installation of appropriate signs at the boundaries of the protected zones of the heritage sites. Earlier, in 2019, KPO organized the large-scale archeological research on this topic (see the details here)
In 2021, as part of this project, the Company performed preparatory works, including a full-scale inventory of all KPO tree-plantings, design of new tree-plantings and information signs, determination of the key technical and economic project performance.
In 2022, it is planned to complete the third and final phase of the SPZ improvement project — the development of the detailed design documentation «The first landscaping phase of ESPZ and setting the estimated SPZ boundaries out». The overall time limit of the entire project implementation includes the period from spring 2023 down to 2028. The total area of ​​the sites planned for green construction for the entire project period will be 249 ha, of which 151 ha are the existing plantings, and 97.25 ha are the new ones. The construction of capital facilities in the process of project implementation is not provided. The work is expected to be carried out by a contractor.
The project will be coordinated with all stakeholders: state authorities, economic organizations and agricultural producers.
Key design solutions of the development and upgrading of KOGCF ESPZ for the period of 2023 — 2028
(click on image to enlarge)